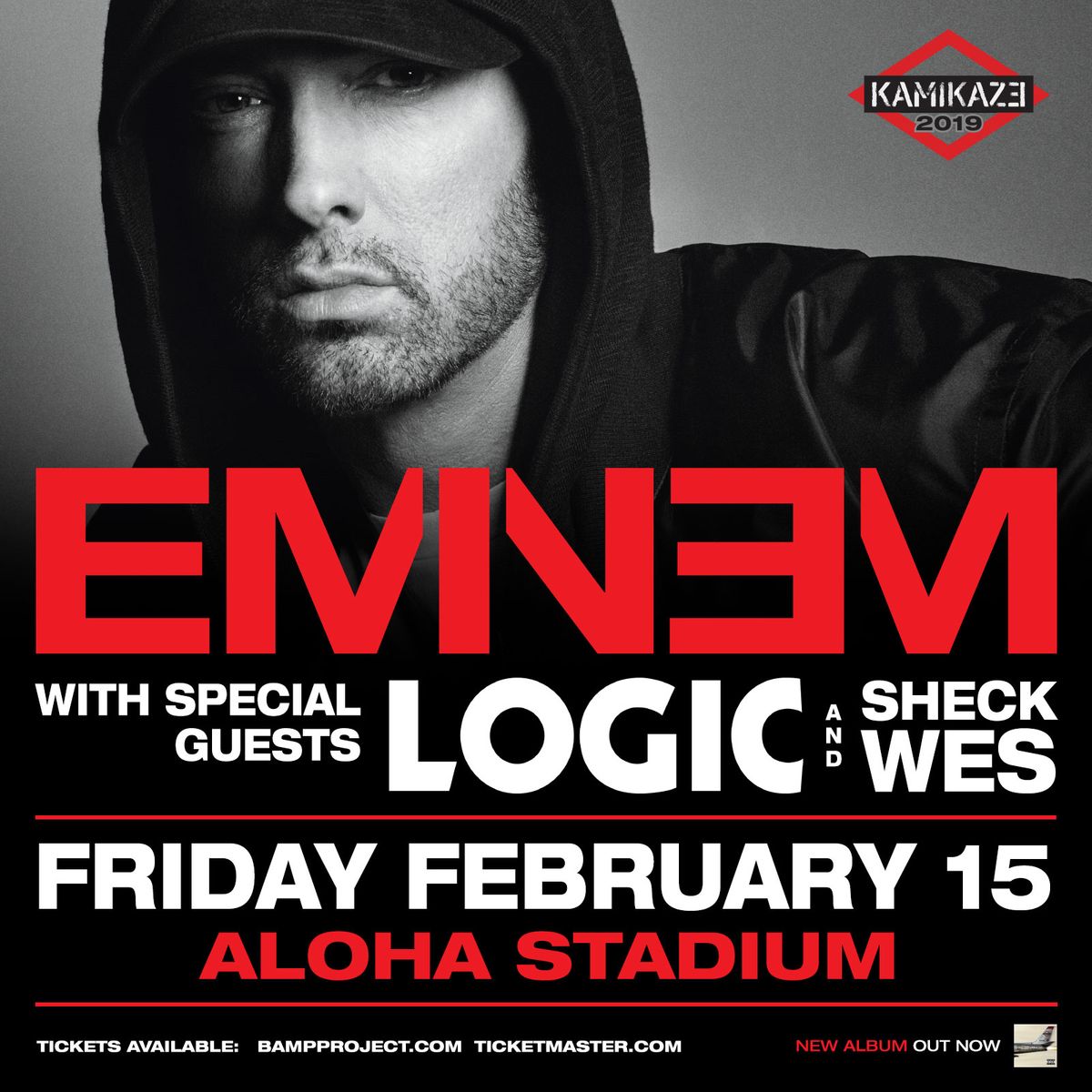 Aloha Stadium
5:00am
All Ages
EMINEMSpecial guests:
Logic
Sheck Wes
Royce Da 5'9
Friday, February 15th ● Gates Open 5:30pm KNOW BEFORE YOU GO
Below is important information to make your concert experience a once in a lifetime event!
TRAFFIC & PARKING
Traffic is expected. Plan ahead, arrive early and consider all transportation options available for you.
For live updates regarding traffic and parking, follow us on Facebook @AlohaStadiumHawaii and Twitter @AlohaStadiumHI.
STADIUM PARKING
Please allow ample time to find parking. Parking attendants will be onsite to assist with finding open spaces.
Expect delays when exiting the stadium. Police checks and other situations may come up where patrons will have to be rerouted to another exit gate.
Tailgating is NOT allowed for concert events.
Parking Fee: $16.00 cars, $31 for buses and limos (cash only)
PARKING GATE OPENING TIMES
Friday 02/15/19 4:00pm
Parking Gate 1 (Main Salt Lake) - Use Kamehameha Highway or Salt Lake Blvd. –ADA access, passes and limited public parking.
Parking Gate 2 (North Kam) – Use Kamehameha Highway – RECOMMENDED PUBLIC PARKING ENTRANCE
Parking Gate 3 (Halawa) – Use Kahuapaani St. only. – RECOMMENDED FOR PUBLIC PARKING ENTRANCE
ADA Parking: Please use the Main Salt Lake Stadium Entrance. Limited stalls available at parking sections 2AB, 3AB, 9A, and 13A.
Electric Vehicle Parking: Limited free parking available on a first come first serve basis.
***Note that the Honolulu Police Department (HPD) will be assisting with traffic flow on surface streets around the stadium. Additionally, HPD may do intermittent exit closures at the Aiea cut-off and the Halawa/Stadium exits on H-1 Eastbound if the freeway begins to back-up. If you encounter a closed exit, please proceed to the next available exit, and if necessary, do a U-turn and make your way back to the stadium.
Ride-Share
Drop Off location
A convenient drop-off zone is available in Upper Halawa Lot section 1F for all ride share, taxi, and private vehicles. No entrance fee is required at drop off zone. Vehicles enter through Kalaloa Gate and exit stadium parking lot onto Salt Lake Blvd through the exit gate. Do not drop off or pick up on Salt Lake Blvd.
PICK UP LOCATION
Patrons are encouraged to use the pedestrian cross walk and have drivers pick up before Kalaloa Street. Drivers use Salt Lake Blvd south bound lanes across the stadium. Do not use north bound traffic lanes to pick up. Cars will be exiting out of Main Salt Lake Blvd Gate 1.
For map details visit: https://alohastadium.hawaii.gov/directions-parking/ride-share-map/
Alternate Parking Sites
Stadium Marketplace - $16.00 parking. No shuttle services. Open to the public: 5:00pm to 1 hour after event
Aiea Elementary - $16.00 parking. No shuttle services. Use pedestrian overhead bridge. Open to the public: 5:00pm to 1 hour after the event
Radford High School - $10.00 parking. No shuttle service. Open to the public: 5:00pm to 1 hour after the event
GENERAL INFORMATION
Security
Your safety is our top priority. In addition to already existing measures, we have implemented new security features to enhance the safety and overall concert experience for everyone. All ticket holders will be screened prior to entry at the turnstile gates. Screening will include a bag check and metal detection. Please give yourself ample time to get to your seats.
BAG POLICY
Each person shall be allowed one bag that does not exceed 12" x 6" x 12" in size.
In addition, each person will be allowed to hand-carry a blanket, poncho or jacket, along with a soft-sided seat cushion. Exceptions will only be made for medically necessary items, after proper inspection. Non-approved bags must be returned to vehicle or discarded.
Strollers are allowed; however they must be collapsible and fit underneath the seat and stored safely without obstructing the aisle-ways for other guests.
All bags, jackets, guests and vehicles are subject to search upon entering the premises. Express lanes are available at each turnstile gate for persons without bags.
RESTRICTED ITEMS
The following items are PROHIBITED from entering the Aloha Stadium turnstiles:
Weapons; Noise Makers; Illegal Drugs; Cans & Bottles; Umbrellas; Coolers; Fireworks; Outside Food & Beverages including snack leis; Inflatable objects of any kind; Confetti; Balloons; Lasers; Poles & Sticks; Skateboards; rollerblades; Bicycles; Animals (except ADA-Compliant Service Animals); motorized remote controlled devices (including drones); or any items which may pose a health or safety issue to our guests and employees.
IMPORTANT NOTE: VIOLATORS ARE SUBJECT TO THE PROVISIONS OF STATE LAW AND EJECTION FROM THE ALOHA STADIUM PROPERTY. ***ALOHA STADIUM WILL NOT BE RESPONSIBLE FOR LOST OR STOLEN ITEMS
BEVERAGE CONTAINERS/FLASKS
Beverage containers/flasks will not be allowed for this event.
BOX OFFICE
Tickets will be available for purchase on event day. Box office will be open from 4:00pm – 9:00pm. Visa, Mastercard and cash accepted.
ATM/CASH
The Aloha Stadium recommends bringing cash. Parking, and several concessions are cash only. There will be limited number of ATMs available and guests should expect lines at the ATM's.
BANNERS/SIGNS
Banners or signs will not be allowed into the concert.
CELL PHONES/CAMERAS/VIDEO RECORDERS
In order to maximize your enjoyment, as well as the enjoyment of those around you, please refrain from prolonged use of your cellular and other electronic devices during the concert. All audio and video recording devices, iPads, Go Pro, and cameras are prohibited. Violators will be asked to leave the event.
SMOKING
Smoking is prohibited except within a posted designated smoking area. (this includes vapor and electronic cigarettes). Violators are subject to removal. Smoking in any other areas could lead to arrest, and this would be considered a misdemeanor.
FIELD ACCESS
Wrist bands are required for field access. Guests with field tickets will enter through the Mauka and Makai lower pavilion entrance. Stadium service roads provide guests access to ground level pavilions. For closest entrances to pavilions use Turnstile 1, 4, 7 & 8.
For General Admission ticket holders, an additional wrist band will be issued on the field before accessing GA area. Ticket holders must show tickets for access to the area.
For map details visit: https://alohastadium.hawaii.gov/directions-parking/aloha-stadium-maps
ADA WHEELCHAIR FIELD ACCESS
Fans requiring ADA wheelchair assistance to the field must use the South Plaza elevator on the main concourse (Section A) to access the lower area through Locker Room Makai B to field. Ushers will be available to assist.
SEATING
Aloha Stadium patrons are responsible for their own conduct as well as the conduct of their guests and/or persons using their tickets. Stadium staff will strive to maintain an atmosphere where all in attendance can enjoy the concert/performance. Event patrons and guests in violation of the Guest Code of Conduct may be subject to ejection, arrest, and/or loss of ticket privileges for future events.
Please arrive with enough time to enter the stadium with the anticipation of long lines and everyone arriving at the same time. Please be courteous and respectful to those seated around you and refrain from behavior that interferes with others' ability to enjoy the event. Remember that every attendee wants to enjoy this event, not just you. Similarly, stadium personnel strive to treat all guests in a consistent, professional and courteous manner.
If the behavior of a patron or patrons around you becomes disruptive or violates the Guest Code of Conduct, the incident should be reported to the nearest usher or security person. To report an incident discreetly during an event, a text can be placed to the Security Office using the keyword ALOHA to 78247 to report activity and location. You may also call the Stadium Security
FAQs
Will weather be a factor?
A. All concerts are held rain or shine. Please be aware that umbrellas are not allowed inside the stadium. Visit our prohibited items for details.
Is there an age restriction to attend the concert?
A. No age restriction, ages 2 years and above will need to purchase a ticket.
Will there be portables and food sold on the field?
A. Yes, there will be portables and food sales on the field and in the Bridge Storage Areas adjacent to south end zone.
What are the payment types accepted?
A. The Aloha Stadium recommends bringing cash. Parking, and several concessions are cash only. There will be limited number of ATMs available and guests should expect lines at the ATM's.
Will there be restrooms/portables on the field level?
A. There will be portable toilets in the bridge storage area adjacent to the field.
GUEST CODE OF CONDUCT
Aloha Stadium is committed to provide a memorable experience for all guests in a safe and enjoyable environment. When attending an event, the stadium staff will proactively intervene to support an atmosphere free from the following behaviors:
A. Harassment, foul, obscene, offensive or abusive language or actions.
B. Obstructing the view of other guests.
C. Signs of impairment due to intoxication.
D. Smoking outside of designated areas.
E. Fighting.
F. Unruly or inconsiderate behavior.
G. Throwing of any objects.
H. Interfering with the progress of the event(s) or entering the field.
I. Failing to follow instructions by stadium personnel.
J. Failure to sit in assigned location or seat.
K. Destroying or defacing stadium property.
L. Loitering.
M. Failure to follow stadium policies and procedures.
Guests who choose not to adhere to the "Guest Code of Conduct" will be subject to removal without refund. Please call our Security Hotline at (808) 483-2807 if you need assistance or to report any violations.